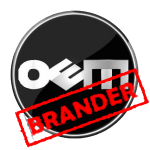 OEM Brander has been updated to version 1.7, which improves the auto updating functionality.
What's New:
Automatically download needed updater files
Warns about file name change affecting updates
The auto updater now downloads the required updater files if they don't exist – no more self-extracting archives, just a single, portable download. For those of you who don't want to update automatically, you can rename the executable – it will then prevent any further checks until it is renamed back. This is now conveyed in the user interface (where the update link is normally).