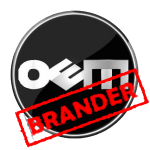 OEM Brander has been updated to version 1.6, which adds auto updating and a self-extracting installer.
What's New:
Auto Updater
Self-extracting installer
To accommodate the extra files required, OEM Brander is now packaged in a self-extracting archive. If these extra files do not exist, or the application is renamed, updating is disabled. For those who do not care about all that, I've included links to the standalone version – this will always be identical to the extracted release, just without the auto update ability.