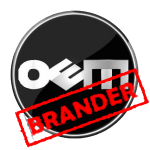 OEM Brander has been updated to version 1.8, which fixes a bug and simplifies the updater.
What's New:
Fixed Sony and Toshiba images being swapped
Changed convoluted updater to simple update prompt
Thank you to yasin and luci in the comments for pointing out the Sony and Toshiba image issue. For those that are interested in updated logos and information, please keep an eye on the blog – I've almost finished planning v2.0, which will be a complete rewrite with additional features.